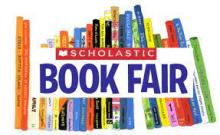 Save The Date!
Dear families,
Mark your calendars! The fun and excitement of a Scholastic Book Fair is coming to our school!
So save the date! Our Scholastic Book Fair will take place on March 16th!
This book fair will be an IN SCHOOL book fair for students and parents to visit on the day of our Conferences. Cases of books, posters and other items will be available for purchase in school on March 16, 2023! Cash, debit and credit cards can be used for purchases. Students will preview the book fair in the school on March 13th, 14th or 15th.